The Drives of Texas Are Upon You!
The University of Texas Golf Club was a vision that became a reality when some of today's most influential University supporters set out on a mission to build a permanent home for UT Golf Teams. In November 2003, The University of Texas Golf Club in Austin TX proudly opened its doors and course to all Members and their guests. Today, The UT Golf Club is proud to be the home of the 2012 NCAA Men's Golf National Champions.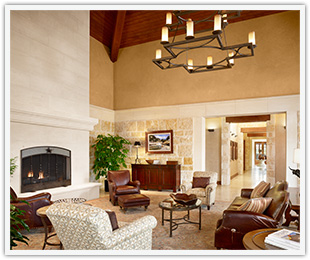 Currently we have issued the majority of our memberships and are making steady progress to complete our roster shortly and start a "waiting list to join". All Members have been enjoying this private club which combines superior golf, state-of-the art tennis facilities, prime practice facilities, with amazing events and experiences in the Clubhouse. It is the best, private country club experience in Texas.
With grand tradition, a rich golf and tennis heritage, this 7,412-yard, Par 71 Bechtol Russell designed championship course, official home of The UT Golf Teams and a secondary home for The UT Tennis Teams, is destined for greatness. From its convenient practice facility and richly appointed clubhouse, to its panoramic hill country setting nestled between Lake Travis in Steiner Ranch and Lake Austin, the club promises a legendary private country club membership experience available only to a fortunate few.
The University of Texas Golf Club features:
Private Club Memberships in an exclusive gated golf community.
Distinctive practice facility, highlighting generous teeing grounds and multiple chipping, pitching and putting greens.
An open-air 3,400 square-foot pavilion overlooking UT's extraordinary practice facility and the picturesque 18th hole. Drop down sides have been built in for year-round use.
An elaborate 16,000 square foot clubhouse with sophisticated dining areas, Golf Shop, spacious locker rooms and lavish bar areas.
A fitness facility complete with cardio equipment, weight training capabilities, flat screen tv's, and a wide array of equipment for your specific training needs.
The Clubhouse is home to an inspiring display area featuring UT legends' memorabilia such as Major Championship trophies, a Ryder Cup display, and NCAA Champions.
The Walk of Fame highlights Texas golf legends' both within the clubhouse and on each teeing ground.
Fun family events, spectacular golf tournaments, unique shopping experiences and a diverse membership.
In the spring of 2013, the club opened its newest addition of the Edgar O. and Melanie A. Weller Tennis Center featuring the Whaling/Snyder Courts. The Center includes six indoor/four outdoor courts, well appointed locker rooms and tennis shop. The Center has become the 2nd home for UT Menís and Womenís tennis programs, one that will help with their pursuit of a national championship.
In the summer of 2013, the club opened its resort-style pool located right near the Tennis Club.
The Club is a first-class experience uniting superior golf, tennis and impeccable club amenities with the triumphant traditions embedded in the spirit of The University of Texas. Memberships, dues and initiation fees are structured to fit a wide array of needs. For more information, please contact Lisa or Lindsay at (512) 266-6464 or membership@utgolfclub.com.
* * *
The premier golf club in Austin TX, The University of Texas Golf Club offers private golf club membership opportunities at our private golf course in Austin TX.